Aerospace electromechanical distributed photovoltaic development is expected to achieve breakthrough
According to Aerospace Electromechanical, Aerospace Electromechanical has actively carried out the layout of distributed photovoltaics. At present, it has completed a moderate layout in Hebei, Fujian, Zhejiang and Jiangsu provinces. The development of distributed photovoltaic power plants will achieve breakthroughs in 2014. Aerospace Electromechanical is currently paying close attention to the development policy of national distributed photovoltaics, and actively explores the business model of distributed photovoltaics while obtaining market layout. As the National Energy Administration actively promotes the development of distributed photovoltaics and local governments have successively introduced further subsidy policies, the construction of distributed photovoltaic power plants is expected to accelerate. The development of aerospace electromechanical distributed photovoltaics will also achieve breakthroughs in 2014. Many industry insiders said. According to the annual report of Aerospace Electromechanical Disclosure, the company achieved operating income of 3.359 billion yuan in 2013, a year-on-year increase of 119.62; net profit attributable to shareholders of listed companies was 144 million yuan, a loss of 889 million yuan in the same period of last year, a substantial increase of 1.033 billion yuan year-on-year. The basic earnings per share is 0.1154 yuan, and it is proposed to distribute a dividend of 0.35 yuan to every 10 shares of all shareholders.
Construction Machinery includes excavator, Wheel Loader , bulldozer, road roller and truck cranes.
It mainly using in construction, such as digging, earthmoving, loading and unloading.
The wheel loader from 2 ton to 8 ton, 3 ton and 5 Ton is most popular.
Bulldozer range from 80Hp to 420 Hp, 220 hp SD22 and 230 Hp SD23 is the most popular model.
Road roller have signal drum and double drum, also have tire road roller, the capacity ranges from 18 ton to 30 ton, SR20M is the most popular.
Truck mounted crane range from 3 ton to 20 Ton mini crane, lifting height from 15 meter to 38 meter. 8 ton, 10 ton crane truck are hot sale.
Forklift have 2 ton to 25 ton, both diesel forklift and Electric Forklift. 3 Ton Diesel Forklift and 5 Ton Diesel Forklift is most popular.
Crawler Excavator ranges from 0.8 ton to 46 ton, 0.8 ton, 1.2 ton, 1.5 ton, 1.8 Ton, 3.5 ton, 5 ton, 6 ton, 13 ton, 15 ton, 20 ton, 21 ton, 22 ton, 30 ton, 33 ton, 38 ton, 40 ton, 46 ton.
Shantui products including Diesel Forklift , electric forklift, heavy duty forklift, Gasoline Forklift , container forklift, Side Loader , Pallet Truck , construction machinery including shantui bulldozer, wheel loader, crawler excavator, road roller, generator set, motor grader, truck crane, construction machinery parts, Shantui Parts , Cummins engine parts, komatsu parts, and other machinery parts.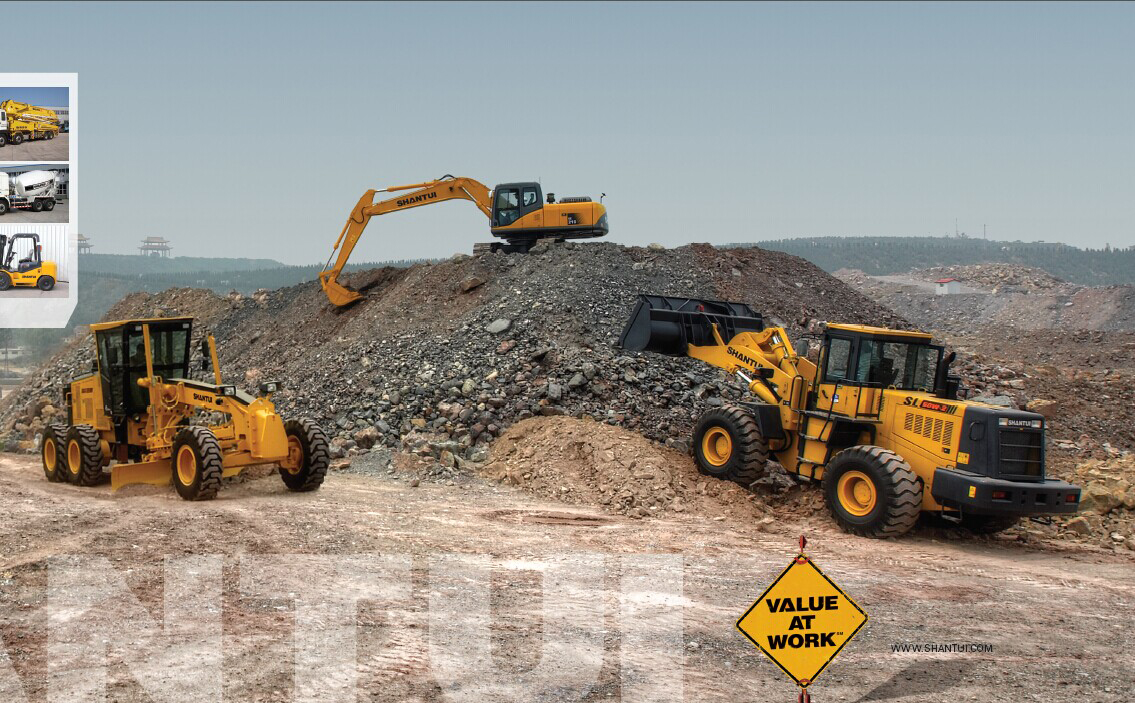 Construction Machinery
Construction Machinery,Crawlwer Excavator,Road Tyre Roller,Shantui Excavator
SHANDONG VOLIN HEAVY MACHINERY CO.,LTD. , http://www.shantuimachinery.com