Example of copper-molybdenum ore dressing plant of Balkhash mining and metallurgical joint venture in Kazakhstan
1 Introduction
The Balkhash Mining and Metallurgical Joint Venture is located in Kazakhstan. A total of two selection plants: copper selection plant and molybdenum selection plant.
The copper processing plant processes the ore of the Kornrad porphyry copper deposit and the CafIKCK deposit to produce a copper-molybdenum mixed concentrate.
The molybdenum plant is used to treat the copper-molybdenum mixed concentrate of the East Cohenrad molybdenum ore and copper ore plant; it also processes the molybdenum-containing products from the Almarek and Akzadsk selection plants.
In 1938, the Balkhash copper plant was put into production and began to choose copper. In 1941, the Balkhash molybdenum plant was put into production and began to select molybdenum. From 1959 to 1975, after several expansions, the existing production capacity has reached 44kt / d ore processing.
2. Deposits, ores and mining
Kornlad is a porphyry copper deposit with 91% of reserves and 9% of off-balance sheet reserves. The ore in the table is classified into Class I and Class II. â…  level depths sulfide ore deposits, mainly metallic minerals chalcopyrite, pyrite, bornite, chalcocite, the main non-metallic minerals are quartz, feldspar, sericite. Grade II is the mixed ore (oxidized ore, sulfide ore) in the upper part of the sulfide ore. Copper oxide accounts for about 30% of the total copper. The copper oxide minerals include malachite, azurite, cyanite, and water cholesterium. The gangue-containing kaolin is easy to mud. The average grade of the Kornrad ore is 0.57% Cu, 0.01% Mo.
The main metal minerals in the East Cohenrad ore are: molybdenite, molybdenum-tungsten ore, pyrite, etc. The main non-metallic minerals are: quartz, sericite and so on. The Kornlad chalcopyrite is uniformly impregnated with fine particles and has a particle size of 0.01 to 1.0 mm. The main mineral in the East Coendade molybdenum ore is molybdenum ore, and the amount of molybdenum oxide is small.
Cohenrad uses an open pit mining process and East Cohenrad uses a pit mining process.
3. Mineral processing technology
The copper-molybdenum ore beneficiation process is complex and can be divided into three sections: copper-molybdenum mixed flotation, producing copper-molybdenum mixed concentrate; copper-molybdenum sorting, producing copper concentrate (in-tank product) and crude molybdenum concentrate Mine (foam product); crude molybdenum concentrate enters the selective process of molybdenum ore flotation circuit, and finally qualified molybdenum concentrate.
The crushing operation uses a three-stage open-circuit crushing process. The process of copper-molybdenum mixed flotation is shown in Figure 1. The ore is coarsely ground in two stages, and the fineness of the product is 60%-200 mesh. After a rough selection, a sweeping selection, three selections, and a selective concentrate regrind process, a copper-molybdenum mixed concentrate is obtained.

Figure 1 Balkhash copper-molybdenum mixed flotation process
Balkhash mixed flotation, concentrated demineralization of tailings (which contains only 0.04% of copper), and the ore is then subjected to one rough selection, one sweep, medium mine regrind and two selections. Desliming, re-grinding and re-election of tailings have improved the recovery rate of copper and molybdenum. Its products are incorporated into copper-molybdenum mixed concentrates.
The copper-molybdenum sorting process is shown in Figure 2. After the copper-molybdenum mixed concentrate is concentrated, sodium sulfide is added, and after steaming at (75 ° C), it is subjected to one rough selection, one sweep, three selections, one fine sweep separation, and sodium sulfide is added during the flotation process. (Na 2 S) inhibits copper minerals and blows steam directly into the flotation cell. Qualified copper concentrate and crude molybdenum concentrate can be obtained by sorting.
Molybdenum ore selection: The oxidation rate of molybdenum in the East Coendade ore is relatively high. The oxidized minerals such as oleic acid are added to the tailings of the molybdenum sulfide. The crude molybdenum concentrate obtained from the separation of copper-molybdenum and the molybdenum products produced by the Alma Lake, Akzadsk selection plant, and the molybdenum oxide flotation section are also included in the molybdenum selection section. The final molybdenum concentrate is obtained after three more selections. The process is detailed in Figure 3.

Figure 2 Balkhash copper-molybdenum sorting process

Figure 3 Balkhash molybdenum beneficiation process
4. Mineral processing agent
The mineral processing plant pharmacy system is listed in the table below.
Table Balhas Concentrator Chemicals System
Pharmacy name

Homework and dosing points

Dosage (g/t)

Copper selection plant

lime

Mixed concentrate regrind

3760

Yellow medicine:

(PH=10~10.5)

Butyl xanthate

Flotation tank (rough selection, sweeping)

32

Isopropyl xanthate

Flotation tank (rough selection, selection)

12

Kerosene

Concentrate regrind grinding machine, sweep selection, III selection

20

(д) engine oil

Ore flotation

twenty four

Foaming agent T-66

Raw ore feed pump pool, flotation tank

153

Sodium sulfide

Slurry dispenser, flotation tank

83

Copper sulfate

II, III selection

twenty one

Water glass

The original mine is supplied to the mine pump, and the I and II times are selected.

394

Polyacrylamide

concentrate

0.5

Copper-molybdenum concentrate separation in molybdenum ore dressing plant

soda

Rough selection and sweeping

150 1

kerosene

Rough selection

312 1

Sodium sulfide (63%)

Rough selection, sweeping and I and II selections

2650 1

Water glass (38%)

Rough selection, I, II selection

2390 1

Choosing East Cohenrad Ore (mainly producing molybdenum ore)

soda

Grinding and rough selection

145

Caustic soda

Grinding and rough selection

11.7

kerosene

Sulfur ore rough selection and sweeping

558

Novoschi Pharmacy

Oxidized ore rough selection

18

Choosing East Cohenrad Ore (mainly producing molybdenum ore)

Oleic acid

Oxidized ore rough selection

97

Foaming agent T-66

Flotation tank

34

Sodium sulfide

Oleline ore roughing, regrind grinding machine IV, V times selection

1740

Water glass

Oleline ore selection and sulfide ore I-IV selection

2800
1 consumption per ton of concentrate.
Due to the use of mixed hydrocarbon oil (transformer oil and industrial oil,) (д) engine oil, kerosene) and OПCБ, T-66 foaming agent and combination collector (butyl xanthate and isopropyl xanthate and the ratio of 3 : 2 is better) to promote the improvement of production indicators.
5, production indicators
The ore grade is 0.57% Cu, 0.01% Mo, the grinding fineness is 60%-200 mesh, the ore processing capacity is 34 kt/d; the copper-molybdenum mixed concentrate (copper selection plant concentrate) grade 17%~18% Cu, 0.1 %~0.15%Mo; recovery rate 88%~90%Cu, 60%~65%Mo; copper concentrate grade 23% Cu, actual recovery rate 85% Cu; molybdenum concentrate grade 51%~52%Mo, copper- The recovery rate of molybdenum separation molybdenum operation is 92%~94%. Total recovery of molybdenum is 55%~61%Mo; power consumption: 24.79kW·h/t mine of copper plant, 15.3kW·h/t mine of molybdenum plant; water: 2.68m 3 /t mine of copper plant, aluminum Factory 1.99m 3 /t mine.
6. Some new developments
The demineralization of the tailings, together with the addition of 50g/t hydrocarbon oil, the re-grinding and selection of the foam products can increase the copper recovery rate by 3% and the molybdenum by 4%. Copper sulfate was added to the copper-molybdenum mixed selection, and the molybdenum recovery rate was increased by 5%. Heating and aerating with steam, steam entering each flotation tank can reduce the consumption of sodium sulfide in copper-molybdenum separation and selection operations by 85%~91%, water glass consumption by 50%, and eliminating diesel and molybdenum operation. The recovery rate has increased to 93%.
Deutz engine part
Deutz engine part are widely used Agricultural Equipment, Construction Equipment , Marine Equipment , Material Handing, Stationary Equipment, Ground Support Equipment , Railway ,Automotive Diesel Engine , Deutz Provide power range from 25KW to 520 KW Water and cooler Engines
1. Germany Deutz Engine Part
These part is Original /Genuine spare parts with Deutz Logo and Package , The Origin is Germany , Price is Expensive and have long delivery time .
2. Dalin Deutz Engine Part
Deutz ( Dalian ) Engine part is the same qulity of Germany parts, Many Detuz part is made in China , We can get these parts directly from manufacture with replacement for diesel engine .
3. Deutz Engine Parts number and Descriptions
Deutz Engine Cylinder block, cylinder liner , piston , Piston Ring , Pin, Lub Oil Cooler , Borgwarner Turbocharger , Starter Motor , alternator , Unit pump , Bosch Fuel injectors , Lub Oil Pump , Repair kit Overhaul , Cylinder gasket , crankshaft, camshaft , Water Pump ,Thermostat, Deutz ECU , Acutors, Aftercooler , Cylinder Head , Main Bearing ,Camshaft Bearing , Connect Rod and bearing , V-belts, Cam folloer,Push Rod, Flying wheel housing , Air compressor , Oil Pan , Radiator, Intake Valve, Exhaust Valve, Valve Spring, Valve Insert , Mann-Hummel Air filter, Fuel filter, Lub Oil Filter , Water filter.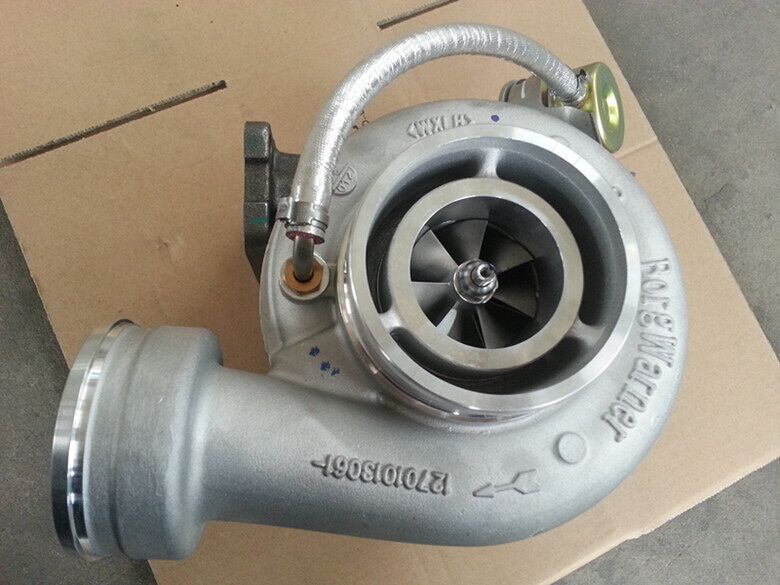 Deutz diesel engine turbocharger
4. Deutz Engine Serize and Model
Deutz FL912/W, BFL913/C, B/FL413F/W; B/F513 series air-cooled diesel engine and BFL1011, BFM2011, BFM1012, BFM2012, BFM1013E/CP, BFM2013E/CP, BFM1015C TCD2011, TCD2012, TCD2013 series of water-cooled diesel engine and accessories.
Other Engine Parts brand as bleow:
Engine parts: Cummins Engine Part , Deutz engine part, Volvo Engine Part ,
Caterpiller Engine Part
, Kubota Engine Part , Yanmar Engine Part , Isuzu Engine Part ,
Mitsubishi Engine Part
,
Perkins Engine Part
, Komatsu Engine Part , Wechai Engine Part ,
Shangchai Engine Part
, Yuchai Engine Part .
Deutz Engine Part
Deutz Engine Part,Oil Cooler,Piston Ring,Diesel Engine Generator Spare Parts
Jining Kunpeng Construction Machinery Equipment Co., Ltd , https://www.excavatorenginepart.com