Hot Selling Old Tire Recycling Granulator (RG90)
Cutting Chamber:
745*1200mm
Granulator Weight:
7600kg
Hopper Opening:
899*1450*1160mm
Final Product:
Rubber Mulch
Granulator Color:
Green&Orange
Transport Package:
Granulator Packed with Plastic
Specification:
2150*2250*2950mm
Hot selling old tire recycling granulator(RG90)
Shredwell granulator turns the input material into rubber crumb. It's a high speed,single shaft granulator for efficient size reduction, which is ideal for processing a wide variety of materials like plastic, rubber, copper cable and aluminum scrap.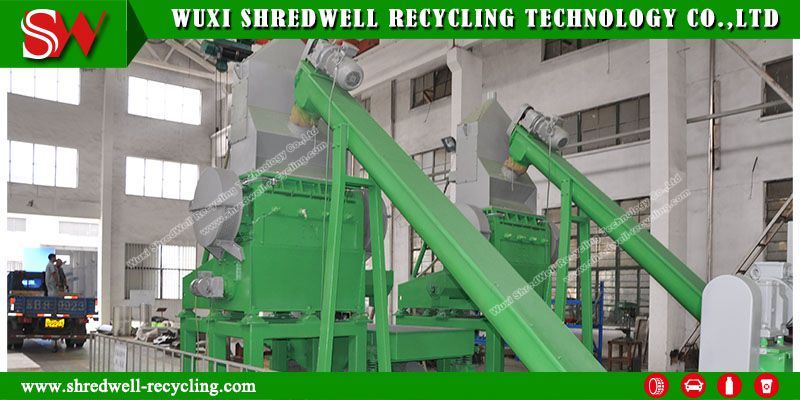 Main feature
*Adjustable blade clearance optimizing the cutting function;
*Exchangeable blades give you an easy maintainable machine;
*Screens with different hole sizes available to ensure a more flexible production;
*Replaceable wear parts give you a tough machine;
*Individual electrical control panel with high quality Schneider components and Siemens PLC control system;
*Precision work rotors.
*Siemens motor driven granulator gurantee the quality.
Specification
| | | | | |
| --- | --- | --- | --- | --- |
| Granulator | RG135 | RG90 | RG45 | RG37 |
| Motor | Siemens | Siemens | Siemens | Siemens |
| Power | 135kw | 90kw | 45kw | 37kw |
| Voltage | as per request | as per request | as per request | as per request |
| Cutting Chamber(W*L) | 1080*1600mm | 745*1200mm | 580*1000mm | 580*800mm |
| Dimensions(L*W*H) | 2350*2810*4330mm | 2150*2250*2950mm | 1770*1900*2450mm | 1770*1660*2400mm |
| Granulator Weight | 9700kg | 7600kg | 4300kg | 3650kg |
| Hopper opening | 1050*1550*1180mm | 899*1450*1160mm | 600*990*920mm | 600*790*920mm |
| Capacity | 1500-2000kg/h | 800-1500kg/h | 500-800kg/h | 300-500kg/h |
| Final product | 1-6mm | 1-6mm | 1-6mm | 1-6mm |
Production workshop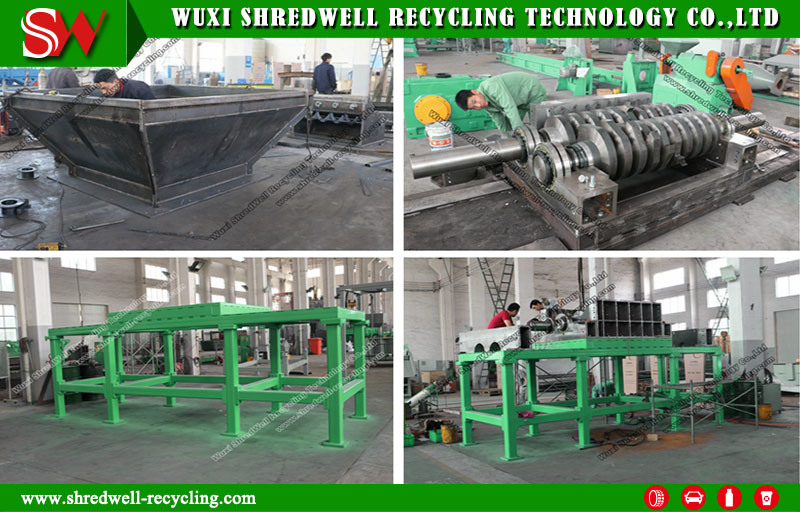 After-sale service
1. Pre-sale support
Shredwell is composed of experienced specialists, our sales are engineers too, we will offer a suitable solution according client's requirements in time and 24 hours service is probided.
 On-site inspection
2. After-sale service
 Production process follow up, on-processing products' pictures and technical report are supplied regularly to make sure the contracted production schedule.
 Shredwell skilled technicians are available to assist with onsite installation, commissioning & training on request. This will enable customers to optimize the performance of their new plant. Customers will be briefed on all aspects relating to operation and maintenance by a Shredwell technician. Dimensional drawings together with service requirements will be provided prior to delivery of the equipment, which make time for our customer to prepare the site and commence production in time.
3. Technical support
 Shredwell provides enough hardware resource especially for large-scale production lines, clients can carry out installation, commissioning and acceptance before delivery.

Packing and shipping
1.A layer of plastic wraps to protect granulator from dust, moisture and corrosion.
2.Wooden case is used as the outside package. Or according to the customer requirements.
3.Excellant logistic team to guarantee the shredder machines to be safely shipped to customer warehouse, no extra fee on export or import on custom.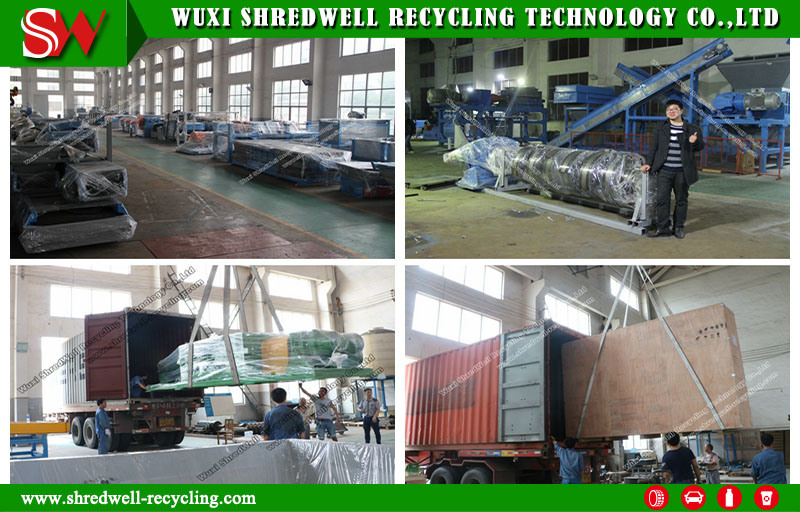 Company introduction
Wuxi Shredwell Recycling Technology Co.,Ltd is an integrated enterprise that is committed to developing, designing, manufacturing, selling and installing shredding recycling machinery. Our equipment is based on self-owned intellectual property and has advanced European and American technology.
 
Shredwell has now been in the shredding and recycling industry for more than 10years. Our engineering team has around 15 years experience in designing and manufacturing tire shredding machine systems. Our workforce has more than 5 years experience in manufacturing shredding machinery. Our company has advanced technologies, an experirenced workforce and excellent innovative management systems designed to manufacture safe, energy-saving, stable and reliable shredding machine systems.
 
Shredwell is located in Wuxi, China, covering an area of more than thirty thousand square meters, and has a modernized technology center and all kinds of processing and testing equipment with more than 100 experienced staff including over 30 professional engineers. Our main focus is to provide our customers cost-effective tire recycling systems ranging from TDS system(50-100mm output chips), TSM system(20mm output wire free chips), TSC system(1-5mm rubber crumb), TSP system(30-120mesh rubber powder),and we still offer shredder,granulator, rasper and miller...
 
Our experienced after-sales service team can ensure the most timely installation, testing and training in the customer's workshop. Our mission is to provide our customers the best recycling solutions with high quality service and technology.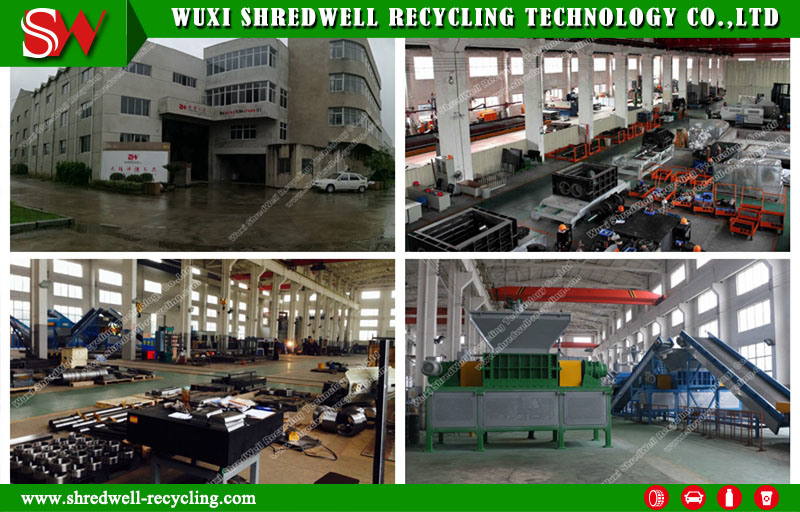 Professional Old tyre recycling granulator supplier---shredwell recycling
 
Gate Valve that opens by lifting a round or rectangular gate/wedge out of the path of the fluid. The distinct feature of a gate valve is the sealing surfaces between the gate and seats are planar. The gate faces can form a wedge shape or they can be parallel. Typical gate valves should never be used for regulating flow, unless they are specifically designed for that purpose. On opening the gate valve, the flow path is enlarged in a highly nonlinear manner with respect to percent of opening.
Cast Steel Wedge Gate Valve Specifications
Design:
API 600: Bolted Bonnet Steel Gate Valve for Petroleum and Natural Gas Industries
BS 1414: Specification for Steel Wedge Gate Valves (Flanged and Butt-welding Ends) for the Petroleum, Petrochemical and Allied Industries
DIN3352: Bolted Bonnet Steel Gate Valve for Petroleum and Natural Gas Industries
Connection: ASME B16.34 Valves Flanged, Threaded and Welding Ends
Flange: ASME B16.5 Pipe Flanges and Flanged Fittings: NPS 1/2 through 24
ASME B16.47 Series A Large Diameter Steel Flanges: NPS 26 Through NPS 60 Metric/Inch Standard
Butt Weld: ASME B16.25 Buttwelding Ends
Face to face: ASME B16.10 Face to Face and End to End Dimensions of Valves
MSS SP-25 Standard Marking System for Valves, Fittings, Flanges and Unions
BB, OS&Y: Bolt Bonnet, Outside screw and Yoke
Size Range: 2" - 40"
Pressure rating: ANSI Class150LB- 2500LB
Materials:
Carbon Steel: ASTM A105, ASTM A216 WCB, ASTM A217 WC6, ASTM A217 WC9, ASTM A217 C5,ASTM A217 C12, ASTM A217 C12A
Stainless Steel: ASTM A351 CF8, ASTM A351 CF8M, ASTM A351 CF3, ASTM A351 CF3M, ASTM A351 CM8, ASTM A890 GR4A, ASTM A890 GR6A
Operation: Handwheel, Gearbox, Electric actuator, Pneumatic actuator, hydraulic actuator
Test: API598,API6D
ZC cast steel gate valves are designed and manufactured to provide maximum service life and dependability. All gate valves are full ported and meet the design requirements of API-600 and ANSI B 16.34. Valves are available in a complete range of body/bonnet materials and trims.
Bronze Gate Valve, Non Return Valve Types, Stainless Steel Gate Valves, Valve Trim Types
Zhejiang Zhongcheng Valve Co.,Ltd. , http://www.apivalvestar.com